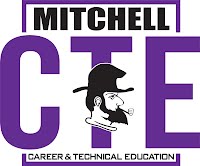 Career Technical Education
Mitchell CTE Igniting Tomorrows Passions
Career and Technical Education (CTE) creates Pathways/Career Clusters to success for all secondary students by providing them with the technical skills and academic knowledge needed to prepare for future employment and/or a successful transition to post-secondary education.
Career and Technical Education encompasses a variety of programs structured to equip students with work and life skills. In North Carolina, over one millon students (grades 7-12) participate in CTE courses annually helping them explore career options and develop occupational skills. The curriculum of CTE gives students the practical experience they need to succeed through a combination of classroom instruction, hands-on laboratory work, and on-the-job training.
Career and Technical Education jump-starts students' careers by preparing them for jobs while still in, or just out of, high school. Students gain an advantage in increasing their earning power by entering the job market early. In North Carolina, most graduating students have taken a CTE course in high school, and approximately thirty percent of all high school career and technical graduates enter some form of post-secondary program.
Preparing students for meaningful work is an important goal of Career and Technical Education because of the widening skills gap in the nation's workforce.
Mitchell High School offers a comprehensive career and technical education program with programs from business education, family and consumer sciences, health occupations, auto mechanics, drafting, horticulture and animal science, and welding.